Convert any 4K video on Mac and Windows
Free download best 4K Video Converter
Convert 4K video to 1080P on Mac and Windows
I am a travel lover, I like enjoying the beautiful scenery, magnificent building all over the world and want to understanding the local customs and practices. I will organizing a trip next month. So I began to learn about the situation of my destination. My friend transferred a documentary to me yesterday. About the Video: Name – Time Scenery, 4K resolution, H.265 encoding MP4, 9.5GB. But I can't view the video via my LG 50LF6090 Smart LED TV. From the official website introduction, I know this Smart TV support 1080P MP4 video playback. Why LG Smart TV can't read 4K MP4 videos via USB Flash Drive? How to play H.265 4K movies freely? – Pina Dietsche

The higher pixel density of a 4K panel also enable you get much closer without the grid-like structure of the image itself becoming visible –this means you can comfortably watch a much larger screen from the same seating position as your current Full HD panel. Currently all available 4K Ultra HD TVs are in excess of 50-inches. In fact, you may not see any real differences between 4K and 1080P. Why we can't play 4K H.265 movies on LG 1080P Smart TV via USB Flash Drive? There are two reasons, one is the video format is not compatible, and the other is the resolution is not supported. LG Smart TV and Samsung, Sony and Panasonic Smart TV only support H.264 MP4 playback, and the maximum resolution supported by 1080P TV is 1920*1080. So for playing 4K H.265 MP4 movies on 1080P Smart TV, you need to convert 4K H.265 MP4 to H.264 1080P MP4. Our 4K Video Converter can give you a hand.
With this top 4K Video Converter, you can convert any 4K movies to 1080P MP4, MOV, M4V video easily. In addition, you can rip and convert Blu-ray to H.264 MP4 for playing on Smart TV, Android tablet, etc.
Free download 4K to 1080P Converter here
How to convert H.265 4K video to H.264 1080P on Windows and Mac?
The procedures on how to convert AVI format to MP4 here is taking  Windows 4K Video Converter as an example. Make sure you have downloaded the suitable version.
1. Install and run this 4K to 1080P Converter. Load your H.265 files into this H.265 to H.264 conversion software.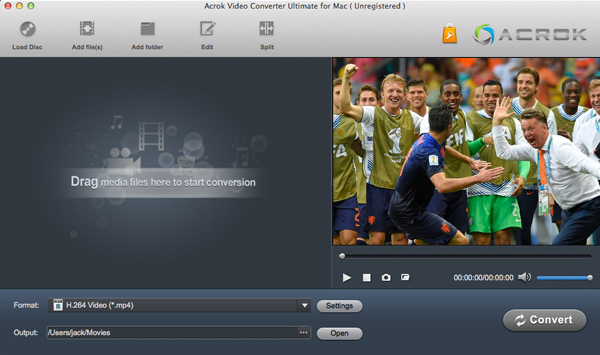 2. Clcik Foramt option to choose 1080P format as you needs. For watching 4K H.265 movies on LG  1080P Smart TV, you need to choose "HDTV > HDTV 1080P  Video (*.mp4)".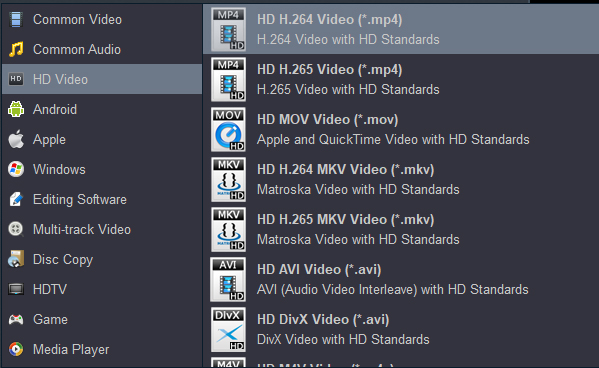 Tip: If you want to change a particular property on your video, just click Settings, located at the bottom-right section of the screen.
3. Start 4K to 1080p Conversion. Click "Convert" button to start converting 4K to 1080p.
You may need to read: